20 Year Reunion
Reunion tickets are now available for purchase on the Reunion Tickets page.   We are pleased to announce that a portion of all ticket sales will benefit the Josh Crews Writing Project and Flagler County Education Foundation.  Ticket prices will increase after March 31 so register now.
Help make our 20th reunion great by signing up to help out via our Volunteer Spot page.
Upload your memories to share during our slide show on our Photo Upload page.
We hope to see you all in May!
Join us Memorial Day Weekend 2016 in Flagler County for the 20th reunion.  Please join our private Facebook Group "FPC Class of 1996" for more details by emailing reunion@fpc1996.com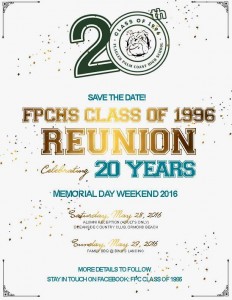 Thanks to everyone who filled out the survey to help start the planning process.  If you'd like to volunteer to help with the planning or day of event, please join us at Volunteer Spot.  We are also looking for any alumni business or services that can supply the event or be willing to offer a discount or donation (DJ, food, event/party rentals (tables, chairs, bounce houses – for possible family event, etc), graphics, printing).  Our goals for planning our reunion are: to make it a cool event to go to, make it affordable for everyone to attend and keep the dollars spent in the local community.